Life is sometimes flat-face-fally.  But on the bright side, someone out there had the best day of their life today.
I will keep telling myself that.
---
For all the crap Evangelion gets, I forget how nice the animation is.  This is so simple, but the lines are delicate and it conveys a really subtle emotional shift.  Pretty lightwork too.
(Source: miketsukami, via toothii)
---
---
Shenaniganry
Hey rear-window-ethics, I think we should start tagging East Van.
This could be our post-spray victory dance: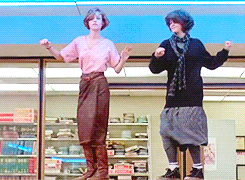 Do you think you'd be Sheedy or Ringwald?
---
Conversations With Film Students
Boyfriend: Are you ever going to stop writing scripts about weird people without genders?
Me:
…No.
Boyfriend: 
---
Quixotic Geography Jokes!
Preferred response to prolonged whinging.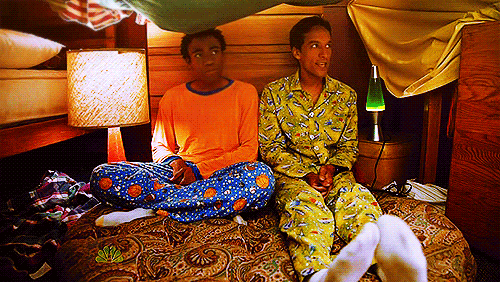 ---
The stories don't hinge on how big it is; the stories hinge on the relationships between the characters. So if they need to go to the island of Tortuga in Pirates Of The Caribbean, then they'll need to. Or if they need to go buy pencils, then they'll do that.
"
—
Joel McHale, when asked if Community was going to do more spectacle episodes or keep things small.
Well said indeed, sir.  I think the cast should go buy pencils in Tortuga, myself.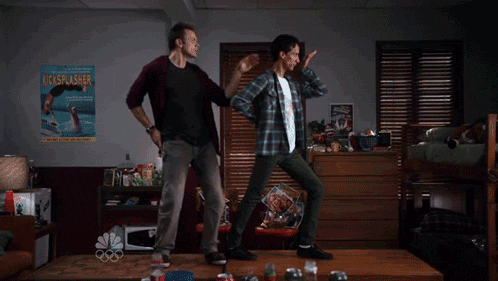 ---
T Minus Thirty To Married Gay People In New York!
Allow me to explain through interpretive GIFs.
[this is from one of the Republican senators who changed his vote to support the bill]
Saland concluded his statement saying, "While I understand that my vote will disappoint many, I also know that my vote is a vote of conscience. I have contemplated many difficult votes throughout my career and this is by far one of the most, if not the most difficult. Struggling with my traditionalist view of marriage and my deep rooted values to treat all people with respect and as equals, I believe after much deliberation, I am doing the right thing in voting to support marriage equality."
Related link, for those interested in knowing more.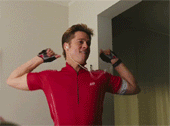 ---
---