---
Is it wrong that I think Troy and Britta would be 200% more interesting as a couple than Jeff and Annie?
(Source: glramseys, via communitythings)
---
The stories don't hinge on how big it is; the stories hinge on the relationships between the characters. So if they need to go to the island of Tortuga in Pirates Of The Caribbean, then they'll need to. Or if they need to go buy pencils, then they'll do that.
"
—
Joel McHale, when asked if Community was going to do more spectacle episodes or keep things small.
Well said indeed, sir.  I think the cast should go buy pencils in Tortuga, myself.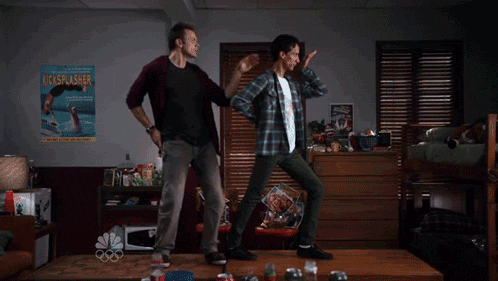 ---
TV Trope: Sarcasm Mode

Abed: OK, if I could just take this time to share a few words of sarcasm to whoever it is that took this pen. I want to say thank you for doing this to me. For a while I thought I'd have to suffer through a puppy parade but I much prefer being entombed alive in a mausoleum of feelings I can neither understand nor reciprocate. So whoever you are, can I get you anything? Ice cream? Best friend medal? Anything? OK, sarcasm over. You're last up, Shirley. Dump your comedically huge bag and end this.

(2.08 Cooperative Calligraphy)
OH ABED COME HERE I WILL GIVE YOU A HUG THAT WILL MAKE YOU UNCOMFORTABLE.
---
This is why guys can't get raped
Leslie's tags say it all:  #congratulations on perpetuating rape culture. #i want to like you donald glover but this is a dealbreaker.
His Bro-Rape bit is also shockingly unfunny.
---
Sometimes I take myself so seriously that I think the job is more than to support these characters. They're already in people's living rooms and are welcome there, and my job at this point is to take a garbage bag and make sure that the ashtrays don't fill up and order pizzas in advance. Facilitate the relationship that is there.
"
— Dan Harmon, on the season finale of Community.
---